Your exchange may stay in this status for several reasons. In this article, we will take a detailed look at each.
You have not sent your funds to our deposit address
The exchange will not start until you have deposited your funds.
To do so, all you need is to open the wallet service you use to store your funds and create a new outgoing transaction to ChangeNOW's address. We will provide the address to you on the exchange page. The location is marked yellow in the screenshot below: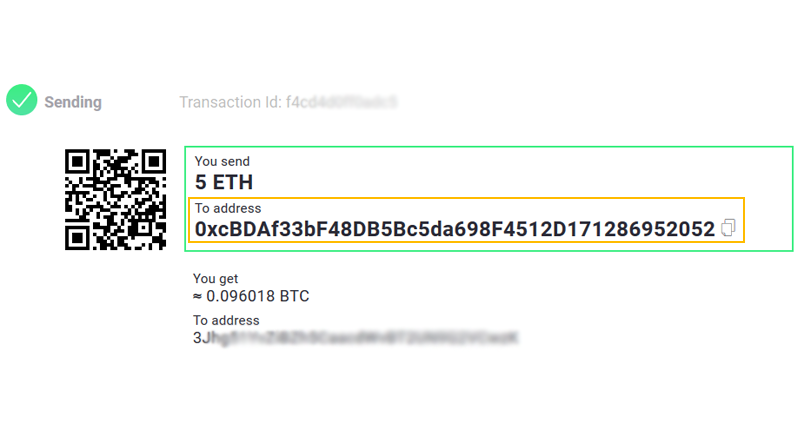 Warning! This is an example address. Please make sure to check your exchange page for the address that was generated for your exchange.
As soon as your transaction receives the necessary amount of confirmations, your exchange will start automatically.
Your deposit arrived too late
ChangeNOW's automatic deposit recognition system monitors each exchange's deposit address for 24 hours. Any deposit made after this time frame will not be recognised.

If this happens to you, please contact our support team to sort the situation out.
Your funds were sent from a smart contract
ChangeNOW does not accept deposits from smart contract addresses for XTZ, EOS, and ETH. We will not be able to process an exchange with such a deposit.
If you've already sent your funds, please contact our support team to discuss your refund.
For XRP, XLM, ATOM, EOS, BNBMAINNET exchanges
ChangeNOW uses one address for all deposits of the following currencies: XRP, LUNA, XLM, EOS, ATOM, HBAR, XEM, BANDMAINNET, AVA. To link deposits to their exchanges, we rely on unique memos/destination tags.
You can see your uniquely generated memo on the exchange page: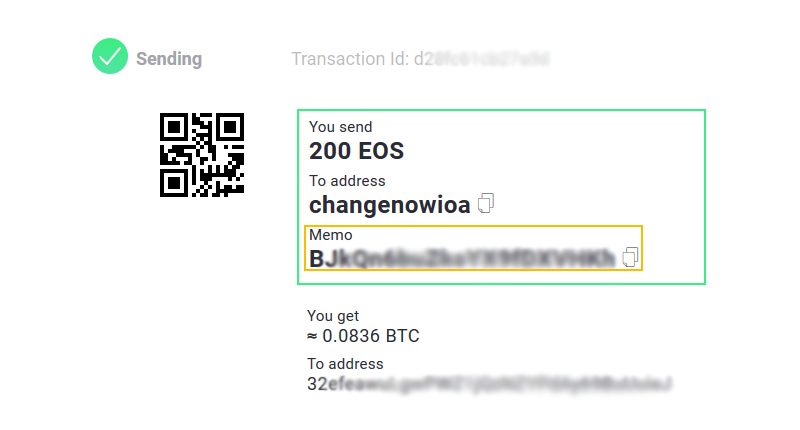 Warning! The format of the memo/destination tag may vary depending on the currency.
If you forgot to specify the memo or made a mistake in it, please contact our support team to identify your exchange and decide how to proceed.
You sent us the wrong currency
For example, if you accidentally send us ETC instead of ETH. Since our system will only be checking the deposit address in the ETH blockchain, your ETC will not be picked up.
In such situations, please contact our support team. We will do our best to help you retrieve your funds.
Please note, however:
We cannot guarantee a full refund in such situations.

This process may take an indefinite amount of time.
You sent us the old token
In this case, your deposit will not be recognized. In this situation, please contact our support team. We will do our best to help you retrieve your funds.

If the information on this page does not answer your question, please don't hesitate to contact our support team (support@changenow.io). We are available 24\7!